Jump London
Jump London is the documentary broadcast by Channel 4 in September 2003 about Freerunning and parkour. It was directed by Mike Christie and later Jump Britain was aired, the sequel to Jump London. Jump Britain was aired in January 2005 and also directed by Mike Chrisite.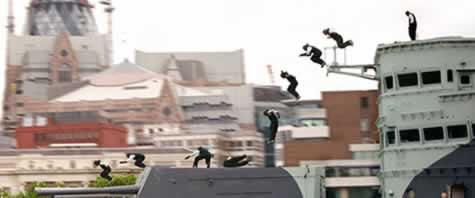 It followed three French traceurs, Sebastien Foucan, Jerome Ben Aoues, and Johann Vigroux, Freerunning around London's famous landmarks, like Royal Albert Hall, Shakespeare's Globe Theatre, HMS Belfast, to name but a few. The recognised creator of the discipline, comes to London with the two others to run, skip and jump across many of the landmarks of the city
Free Running has been given global recognition due to a series of adverts for Toyota, Nike and the BBC. But the documentary Jump London really had a big effect on the speed and magnitude of growth in the parkour community.
As well as initially showing people who are unfamiliar with parkour what it looks like, it also explains about the deep philosophy behind it. By showing many interviews with the traceurs.